IBM DevOps 및 소프트웨어 엔지니어링 전문 인증서
Launch your DevOps and Software Engineering Career. Master DevOps, Agile, Scrum, CI/CD and Cloud Native with hands-on job-ready skills.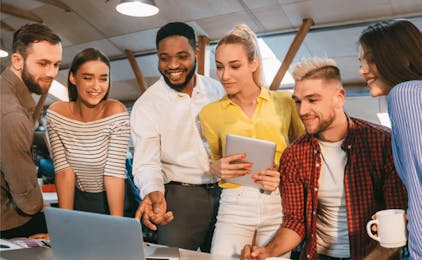 1,230 평가
17,822이(가) 이미 등록됨
직무와 관련된 기술을 최고로부터 학습하여 구축하기
IBM의 전문 자격증을 통해 수요가 많은 데브옵스 분야의 경력을 시작하세요. 데브옵스 및 클라우드 컴퓨팅의 기초를 배우고 소프트웨어 엔지니어가 사용하는 도구와 프로그래밍 언어를 사용하여 실습 기술을 개발하세요.
일반적인 직함: 신입 데브옵스 엔지니어, 데브옵스 엔지니어, 신입 소프트웨어 엔지니어, 신입 클라우드 네이티브 소프트웨어 엔지니어
¹Lightcast™ Job Postings Report (경력 0~2년의 중앙값), 미국, 2021/9/1~2022/9/1.
56,299
데브옵스 및 소프트웨어 개발 분야의 수요가 많은 일자리¹
¹Lightcast™ Job Postings Report (경력 0~2년의 중앙값), 미국, 2021/9/1~2022/9/1.
귀하가 습득할 기술
Cloud Native

Devops

CI/CD

Application development

Software Engineering

Test-Driven Development

Behavior-Driven Development

Iaas PaaS Saas

Hybrid Multicloud

Cloud Computing

Agile Software Development

Scrum Methodology
이 전문가 수료증에 관한 정보
배울 내용
Develop a DevOps mindset, practice Agile philosophy & Scrum methodology - essential to succeed in the era of Cloud Native Software Engineering

Create applications using Python language, using various programming constructs and logic, including functions, REST APIs, and libraries

Build applications composed of microservices and deploy using containers (e.g. Docker, Kubernetes, and OpenShift) & serverless technologies

Employ tools for automation, continuous integration (CI) and continuous deployment (CD) including Chef, Puppet, GitHub Actions, Tekton and Travis.
기술을 쌓아서 실무에 대비
새로운 분야에서 커리어를 찾고 있거나 현재 커리어에 변화를 주고 싶다면, Coursera의 전문 자격증을 취득하여 준비된 인재로 거듭날 수 있습니다. 가장 편리한 시간과 장소에서 나에게 맞는 속도로 배워보세요. 지금 바로 등록하고 7일 무료 평가판을 통해 새로운 진로를 탐색해보세요. 언제든지 학습을 일시 중지하거나 구독을 종료할 수 있습니다.
실습 프로젝트
실습 프로젝트에서 기술을 적용해보고, 미래 고용주에게 실무적으로 준비된 인재임을 보여주는 포트폴리오를 만들어보세요. 자격증을 취득하려면 프로젝트를 성공적으로 완료해야 합니다.
경력 자격 증명 취득
프로그램의 모든 강좌를 완료하면 전문가 네트워크에서 공유할 수 있는 자격증을 얻게 되며, 새로운 커리어를 시작하는 데 도움이 되는 커리어 지원 리소스에 액세스할 수 있게 됩니다. 많은 전문 자격증은 해당 전문 자격증의 자격 증명을 인정해주는 채용 파트너가 있거나, 자격증 시험을 준비하는 데 도움이 됩니다. 해당하는 경우 개별 전문 자격증 페이지에서 자세한 내용을 알아볼 수 있습니다. 자주 묻는 질문
이 강좌는 100% 온라인으로 진행되나요? 직접 참석해야 하는 수업이 있나요?

What background knowledge is necessary?

Do I need to take the courses in a specific order?

전문 분야를 완료하면 대학 학점을 받을 수 있나요?

What will I be able to do upon completing the Specialization?
궁금한 점이 더 있으신가요? 학습자 도움말 센터를 방문해 보세요.